Instant chat / Zapytaj teraz
How to enhance your POS with new features with minimum cost and risk
Mobile apps, self-service kiosks, omnichannel, loyalty systems, mobile order ahead and many more features are becoming the industry standard. Restaurants and retailers have to quickly innovate to keep up with market requirements. One of the major obstacles for innovations is usually a legacy POS system.
Legacy POS (such as Oracle Micros, NCR Aloha, Lighthouse or Heartland) are the heart of both brick-and mortar and online retail food companies. Furthermore, with regards to their core functionalities, they are still doing their job. On the other hand, the digital transformation forces companies to implement completely new features, that are not supported by the legacy systems.
With that in mind, a lot of restaurants and other HoReCa companies have a choice:
dump
the legacy system
and move to the cloud
boost
the existing software
and avoid disruption
In other words: begin the transition to a brand-new cloud-based POS with all the inevitable disruption, turmoil and cost or gradually enhance the existing software by a series of plug-ins and integrations to ensure it covers all the necessary new functions until they are ready for a full transition.
That's where we come in to help you make the right decision.
The most important functions, that cloud-based POS systems (including our own) provide businesses with are:
www and mobile ordering interfaces;
in-store self-service kiosks;
online, mobile and in-store graphic menu presentation;
omnichannel-enabled loyalty systems, available via all retail channels;
food delivery management and monitoring;
online payments and fiscalization;
click and collect features;
integration with third-party ordering platforms;
integration with call center applications, including instant caller identification;
That's not all. Legacy POS solutions are holding HoReCa companies and their personnel back in a number of ways. They usually lack important back office functions that are supported by cloud solutions, i.e.:
effective upsell functions, especially those based on AI and machine learning
dynamic, real time reporting with remote access
real time inventory, allowing staff to only sell goods that are available at that time
integration with marketing automation tools allows a company to perform customer segmentation and activation through precisely targeted campaigns.
Understandably, many other cloud POS manufacturers like Toast, Square POS, EZ-Chow, Erply or Poster are trying to convince their potential clients, that the best way to leverage all the benefits of modern technology is to nuke the old tech without any sentiment. The other point out, that sucha a transition is comlicated and expensive, and opt for re-engineering of a legacy application.
What about a short chat about the optimal solution for you?
When you start a new restaurant business, implementation of an up to date, cloud-based POS can be a rather obvious decision. Cloud POS
has integrated all the elements of the digital restaurant;
gives you a single point of management access;
it's more flexible. Cloud software can be continually developed and updated;
is usually much cheaper;
If you find these advantages compelling - we are only to happy to help you start implementation of your cloud-based POS right now.
But is it necessarily worth it, when you have a lot of stores and an expensive POS system already up and running? The full transition usually means you should scrap the current software, purchase new licenses, purchase new on premises hardware, integrate of all your corporate software with a new system and much more
That's a lot of work, time and money. So perhaps what you should actually do today is enhance your existing POS system with a cloud-like web integration centre. By choosing this approach you can take advantage of all the cloud-based POS features without ripping out and replacing old infrastructure. This solution
instantly empowers your business instead of disrupting it
takes on the most crucial tasks like online and mobile ordering and payment, self-service kiosks, call center integration, third party ordering, delivery management and much more
is ready to use with all its core elements and the API interfaces are easily adjusted to plug in into your organisation's network
is a huge step towards a full transition to a cloud solution, and can power your business for years until you are ready to embark on the final transition.
Do you need more info? Download our whitepaper!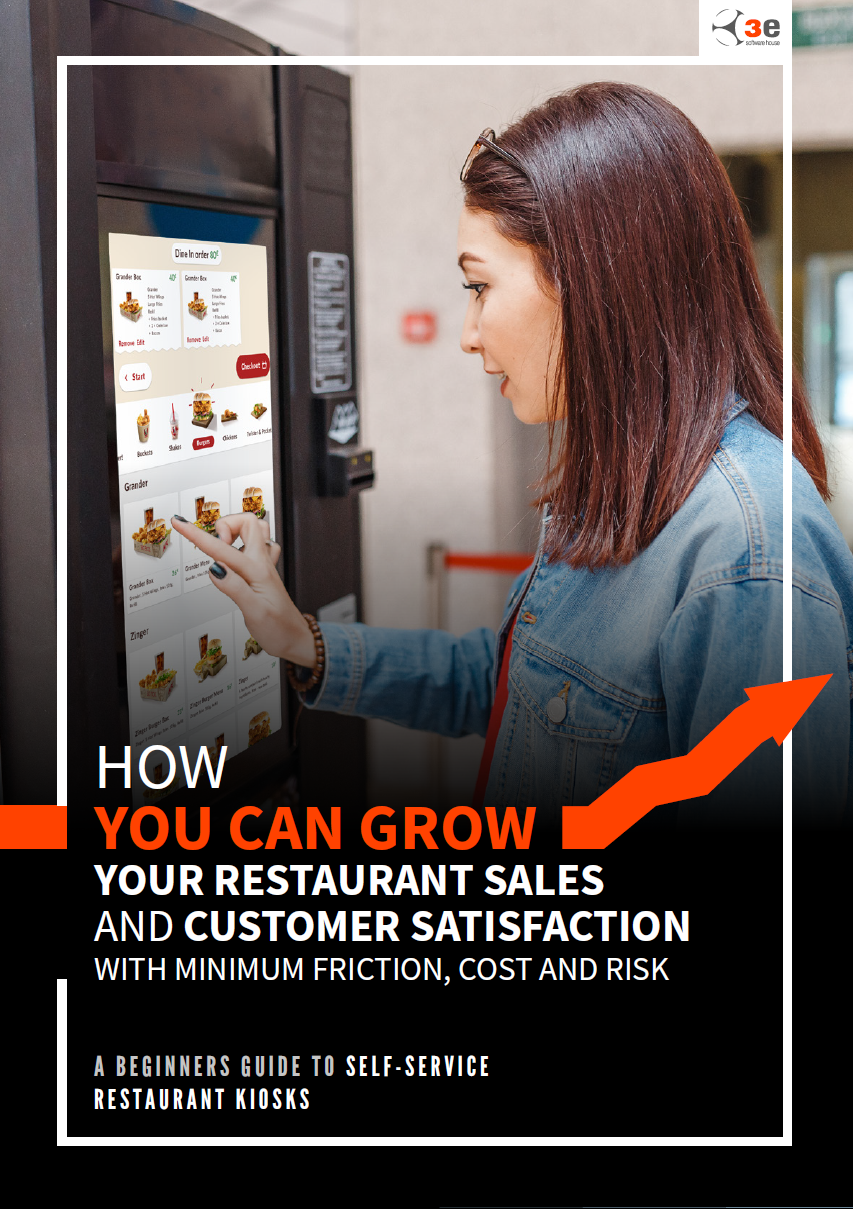 Only one modern POS solution - self service kiosks can increase sales (up to 30%), service speed (by 40%) and market share. They improve customer satisfaction (up to 76% of customers). This is only one of numerous benefits you can gain by upgrading your POS to cloud solution or by integrating external features. With an upgraded system you can involve you customers into restaurant's omnichannel experience and collect more data about their behaviour and preferences. Once implemented, new features can be a great start for further digitisation of your restaurant business, helping you achieve the complete omnichannel approach, including web and mobile interfaces, third-party ordering, improved loyalty schemes, delivery management and much more.
From our whitepaper you will learn:
How boost sales and service speed using upgraded features?
How to smoothly integrate them with your POS?
How to upgrade your whole system thanks to them?
Download now
Thank you. You should receive an email with requested whitepaper attached in a few minutes.
Do you have further questions?